Designed to combat jet lag
The HumidiFlyer mask is a personal travel mask that is designed to reduce dehydration caused by dry cabin air in aircrafts. Dehydration is known to lead to a number of adverse health effects such as jet lag and fatigue.
The HumidiFlyer mask uses a special medical hygroscopic filter to trap moisture from the user's breath. The trapped moisture then naturally humifies the dry cabin air as it is inhaled – creating a simple, passive circuit to keep travellers hydrated for longer.
Cobalt developed the universal fit mask to ensure high levels of user comfort and convenience. A strong and robust polycarbonate shell is combined with a soft and flexible over-moulded silicone edging that conforms to the user's face, providing a secure yet comfortable fit. An elegant detachable strap has been designed to allow users to position the strap above or below the ears for comfort and best fit. Care and maintenance are simple – the filter is easily removed from the mask, and both can be washed, keeping the mask fresh for ongoing air travel.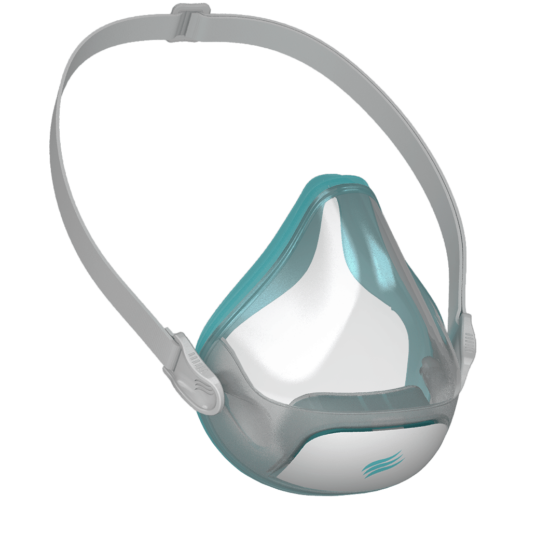 Design Outcomes
Comfort
A one-size-fits-most mask that does not compromise on user comfort. A soft, conformable silicone edge band ensures the mask remains comfortable even on those long-haul flights.
Ease of Use
Considered component integration such as the integrated quick-release strap attachment, makes using the mask simple, even in the dark.
Easy Maintenance
Maintenance and ongoing use were clear considerations during development. All parts were designed to be suitable for washing, and access to the filter is easy via the clip-on front filter cover making removal for cleaning simple.
Design Language
A wearable product that is used on the face has a unique set of challenges and considerations. We developed the product ID carefully to create a visual language that expressed users as smart travellers rather than being unwell or using the mask for medical reasons.
Advanced Design
Advanced 3D surface modelling was undertaken to create the mask's complex form and geometry.
Design for Manufacture
Innovative engineering design led to a minimised part count and a simplified assembly process, reducing production costs.
The Team

We believe good design happens by expert people working as a team.
Kynan Taylor
Graeme Marshall
Chris Morrish
Andrew Fanning